Meet Brandon Smith | 2022 Grow On Windsor Ambassador
"I am a 2022 Grow On Windsor Ambassador because I want to help our cancer community in any way I can. I am waiting for the next breakthrough to extend my life expectancy, and we can't get that breakthrough without funding, research, and support, which is what this campaign is all about."
IN HIS OWN WORDS
"I know there's probably a lot of guys that don't necessarily go to the doctor. I went to get a mole removed and my whole life changed. Stage Four. But I think to myself, what would have happened if I didn't get that mole taken off? Get yourself checked. It could be nothing, but it could change everything.
Advancements in immunotherapy, as a result of clinical trials and research, are critical for me to continue to live my life. We need our community's support. Everyone has been touched by cancer in one way or another."
BRANDON'S STORY
In 2011, Brandon was wearing a lanyard that rubbed against a mole on his neck and broke the skin. The mole became a nuisance, and Brandon reached out to a doctor to have it removed. He thought nothing of it at the time, and cancer never crossed his mind until the doctor's office called and asked to see him in person, immediately. The diagnosis: Stage Four Melanoma.
Within two weeks, Brandon met with a plastic surgeon to have the mole and a number of lymph nodes removed. His initial visit to the Windsor Regional Cancer Centre was overwhelming. He went alone, and was surprised to see the wide range in age and health status of the many patients throughout the building. He continued visits at the Windsor Regional Cancer Centre for bloodwork for a number of years, until a lump appeared on the back of his skull in 2017. The lump was removed, but the results revealed that Brandon's cancer had metastasized and had spread throughout his body.
When Brandon received the diagnosis that his cancer had spread, his twin daughters were just five years old.
Brandon proceeded to undergo five sessions of radiation on his brain, followed by five sessions on his lungs. Brandon and his doctor began looking for available clinical trials. During the search, they found a new treatment that was being offered right here in Windsor. This new treatment was promising but aggressive, and side effects took its toll on him. Brandon's potassium levels dropped and he was admitted to the hospital. That's when Brandon met his wife.
She came to the hospital and spent three days with him, and they've been together ever since. Today, Brandon is in immunotherapy and visits the Windsor Regional Cancer Centre every two weeks. He will continue immunotherapy for the rest of his life. He's so used to the process that, aside from day-of-treatment fatigue, Brandon won't let cancer slow him down.
You can support Brandon by donating to his Grow On Windsor Fundraising Page.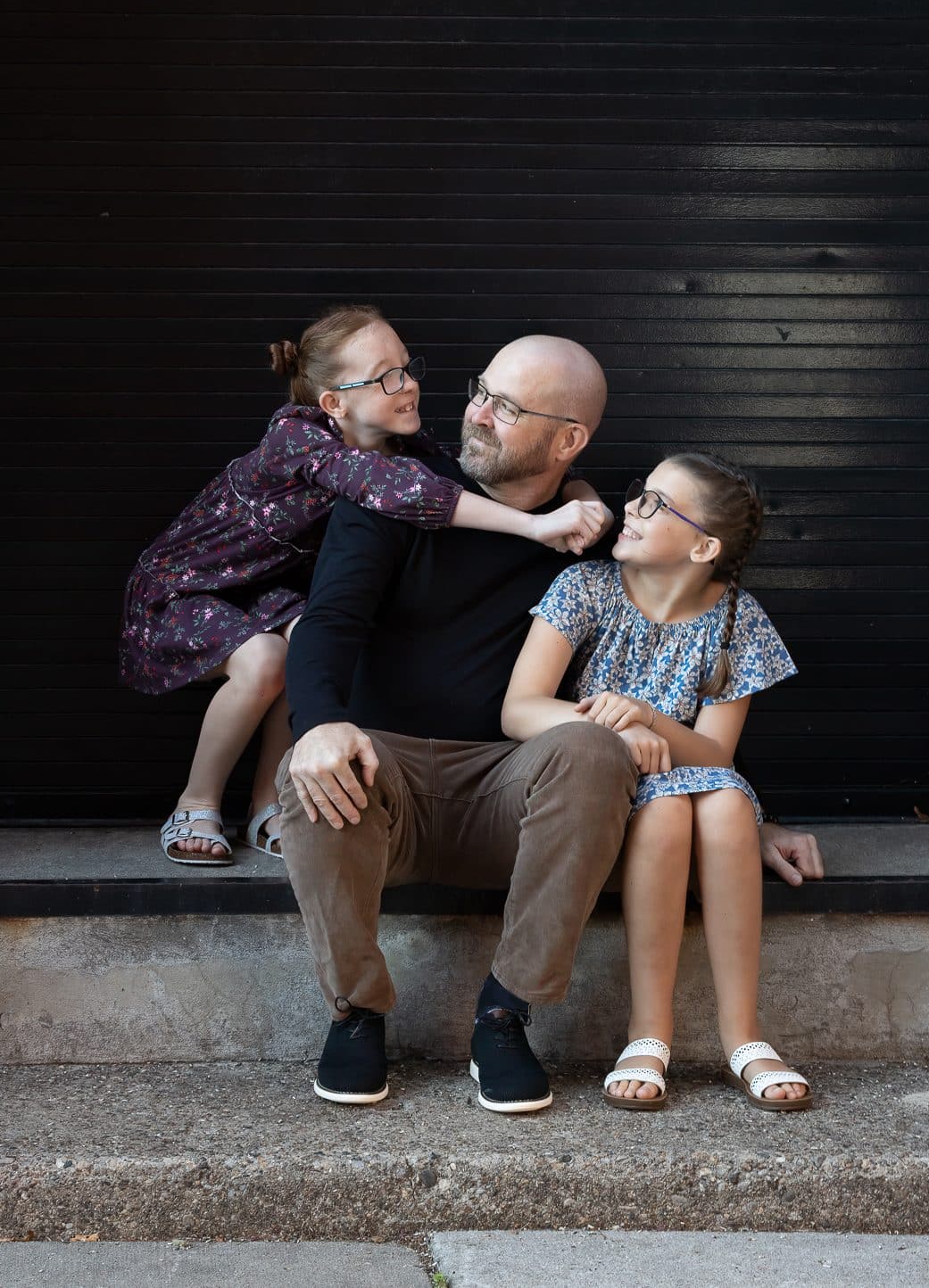 FAMILY MEANS EVERYTHING
When Brandon was told the cancer had spread, the first thing he thought of were his daughters. He knew he had to do whatever he could to stay around for them. Annabelle and Abbygail are ten years old now. Brandon recognizes he may have limited time left, so no matter how yucky he's feeling, the girls remain his top priority. He gets his treatment during his off-weeks so the weeks he has his daughters he's at full energy.
Brandon used to prioritize work and other commitments, and today, says cancer made him a better father. Even though side effects have left him with arthritis and type 1 diabetes, Brandon is focused on his girls, and his wife Sarah. He wants to continue to build a loving family that he can be around for, for a long time.