Meet Ashley | 2022 Ambassador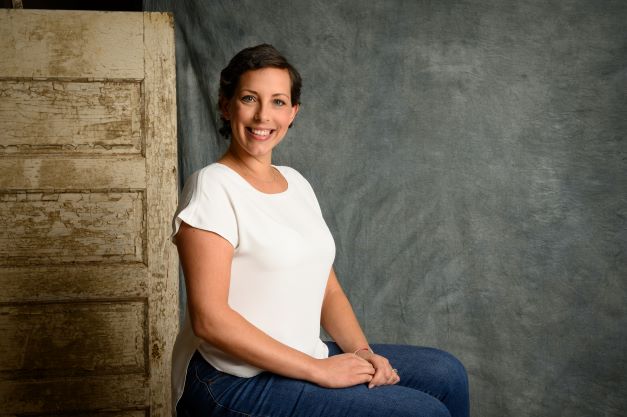 Ashley is a mom, a wife, and a native Windsorite, with a deep passion for helping others. Over the past six years she has been involved with several local initiatives including the Windsor Corporate Challenge, the Fight Like Mason Foundation, Rock Your Sole Charity Fundraiser and the RMHC Red Shoe Society. Professionally, Ashley is the Director of Marketing and Employee Engagement at The Job Shoppe. In January of 2021, she was diagnosed with Stage 2, Triple Negative Breast Cancer and underwent 13 months of active treatment while continuing to work and contribute to her charity work.
If you've never walked alongside or through your own cancer journey, Ashley wants you to know these three things:
Cancer does not discriminate and there is no "typical" cancer patient
Cancer affects everyone who loves the patient.
Cancer treatment and recovery does not simply "end" because active treatment is completed.
Ashley currently has No Evidence of Disease (NED) and like many others, Ashley is choosing to thrive, not just survive. Ashley can often be found with her husband on the sidelines watching their son play soccer and hockey. She loves yoga, playing soccer, running, going to concerts, traveling and spending time with her loved ones.
Read more to learn about the wisdom she's gained, and what she's learned about herself through this journey. You can also make a donation in honour of Ashley. We thank her for her courage as a 2022 Lock Out Cancer Ambassador.
Learn More in Our Interview with Ashley
When did you first discover something "wasn't right"?
In late November of 2020 I noticed a lump in my breast at home and at first thought nothing of it. I assumed it was just a change in my body however it didn't go away. I showed my husband and mother-in-law who both agreed that I should contact my physician. Following a phone consultation due to COVID safety protocols, my physician sent me for an ultrasound which confirmed that it was a solid mass therefore I was then sent for a needle biopsy at the hospital after the Christmas holidays. My physician phoned me less than a week following my biopsy to inform me that the lump was in fact a cancerous tumor and that she would be turning over my care to the oncology team at Windsor Regional Hospital.
What surprised you about local cancer care here in Windsor?
I, like most recently diagnosed cancer patients, was not sure what to expect for next steps and I was especially unsure considering we were in the early part of a global pandemic. I was surprised at how quickly my treatment began. Within a month of the initial call from my physician, I had met with my general surgeon, my oncologist, had all my pre-treatment testing completed, my port insertion surgery and my first round of chemotherapy.
I was also very happy to learn that I would be able to participate in a TNBC (Triple Negative Breast Cancer) treatment protocol trial and receive all of my treatment right here in Windsor. Although I could not bring anyone with me for treatment due to COVID restrictions, knowing that I was only 15 minutes from home was a great comfort.
Many people have little exposure to the world of cancer treatment until they're thrust in it. Can you impart some words of wisdom?
Despite having several people in my inner circle who have either battled cancer themselves or been a primary caregiver for the cancer patients, I too was naïve to how life changing and common a cancer diagnosis really is. It is a reality that I hope most people will have the good fortune to avoid in their lifetime.
There are three main things I hope to enlighten the public about cancer:
Cancer does not discriminate and there is not a "typical" cancer patient. Anyone from a young child to someone like me in the prime of their life, healthy and with no family history to someone in the later years of life can and is diagnosed with cancer every day.
Cancer affects everyone who loves the patient. An equal amount of care and support is needed for the primary caregivers, spouses/partners, children, siblings, best friends etc. as they too face the life altering diagnosis and trauma associated with cancer.
Cancer treatment, side effects, recovery and monitoring does not simply end because "active treatment" is completed. There is a misconception that once a patient completes part or all their active treatment, they are healed and can easily return to their pre-cancer life. Most times, "active treatment" includes more than just chemotherapy. It often involves radiation, surgeries, medicines and more. When the patient completes their active treatment protocol, they face both physical and mental recovery which does not have a defined end date.
Once cancer becomes part of your life, it will always be part of your life therefore the public should be empathic to a cancer patient's growth from the experience, triggers or recurrences.
What aspect have you been able to view as a positive from this experience?
Unfortunately, a cancer diagnosis puts that patient's mortality into the limelight. This is a very scary concept to think about and process. It can be easy to get lost in sadness and hopelessness despite the desire to be positive and fight the disease. Every patient deals with this topic in their own way. For me, the preciousness of my mortality has reinforced my priorities and boundaries. I had most of the same priorities and boundaries before I was diagnosed, however like many people, life and responsibilities sometimes got in the way of upholding or staying true to them. Now that I have completed my active treatment and am discovering what the next chapter of my life looks like, I am making my priorities and boundaries non-negotiable.
What have you learned about yourself? About your support network?
Throughout my cancer experience thus far, I have learned the true and purest meaning of unconditional love. I have learned to show myself unconditional love as I have physically and mentally changed. I have witnessed the unmatched unconditional love that my husband and son have for me. My mother-in-law and best friend have shown me unconditional love when they took care of me and my men. My people (too many to name) have shown me unconditional love on my good and bad days. I will forever be in their debt for loving me so fiercely and unconditionally.
We sincerely thank Ashley for sharing her story. Click Here if you would like to donate to the Windsor Cancer Centre Foundation in her honour.