Support Grow On
Grow On Windsor is a local fundraising campaign created by the Windsor Cancer Centre Foundation in 2015. The campaign takes place every November in support of cancer awareness, research and treatment for men living in our region.
Funds raised stay local and support men with cancer in our region.
2022 Grow On Ambassadors Announced Soon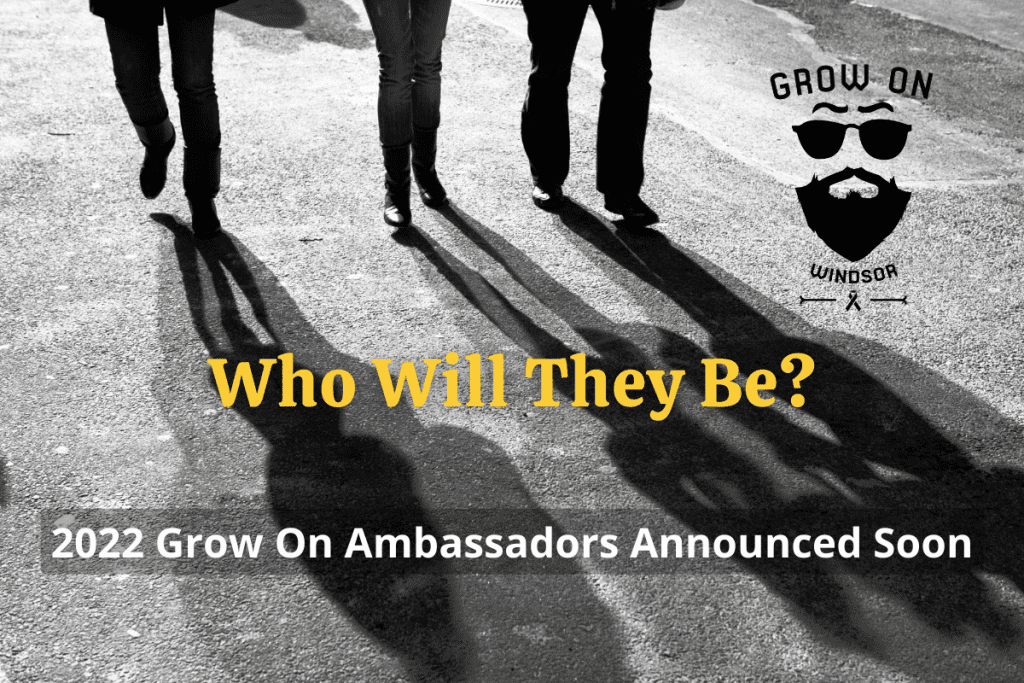 Soon we'll be introducing our 2022 Grow On Ambassadors. Our Ambassadors have received cancer care from the Windsor Regional Cancer Centre, and are committed to raising awareness and funds through the month of November to support cancer awareness, research, and treatment for men in our region.
Once our 2022 Ambassadors are announced, they will be featured right here on this page. You'll have a chance to read their stories, and donate directly in honour of the Ambassador of your choice.
Grow On Ambassadors will take part in events and challenges online and in person to raise funds for men's cancer care.
EMBED FROM ZEFFY (I KEEP WANTING TO CALL IT ZIPPY LOL) … CAN ADD THE THERMOMETER ON ITS OWN SEPARATELY FROM THE LEADERBOARD
---
HERE'S THE "CAMPAIGN" EMBEDCODE FROM ZEFFY WHICH PULLS EVERYTHING:
---
Here are some items and programs funded by the Windsor Cancer Centre Foundation's Grow On Windsor campaign
Endobronchial Ultrasound (EBUS): the EBUS is used for minimally invasive but highly effective procedures for diagnosing lung cancer.
Blue Phantom: measures a number of different characters of the radiation beam to ensure a safe and accurate delivery of treatment. The Blue Phantom that the WRCC currently possesses is over twelve years old while the typical lifetime of such equipment is about ten years.
microSTARii System: used for secondary verification of dose for quality control. It allows staff to access dose to patient critical organs or critical devices during radiation treatment delivery. This device can also be used to perform routine quality control for other radiating emitting equipment in the clinic.
Bladder scanner: The bladder scan measures ultrasonic reflections within the patient's body to differentiate the urinary bladder from the surrounding tissue. It is a non-invasive portable tool for diagnosing, managing and treating urinary outflow dysfunction.
Vital Signs Monitor: The vital signs monitor is used to measure the basic indicators of health – temperature, pulse, breathing, and blood pressure. More scanners available means more patients can be monitored at the same time.
IV Poles: Intravenous (IV) poles offer a secure place to hang bags of medicine, providing patients with a continuous flow of fluids. IV is one of the ways to administer chemotherapy.