2023 grow on Windsor ambassador
Joal McMahon Is Teaming Up For Grow On Windsor
"Whatever funds you can donate, whatever opportunities you have to be creative to help this cause, it's money well spent. Grow On Windsor has helped many families in our area." – Joal McMahon
Read his story, watch his incredible video, and team up to show your support.
Sharing His Story
Joal McMahon is a 43 year old from Kingsville. He's married to Karina and they have a 10 year old son named Coyle. Watch his recorded interview or read his story below to find out how this incredible Grow On Windsor Ambassador is advocating for world class cancer care close to home, just as he received while in treatment.
"You can see it as a patient every time that I went into the Windsor Regional Cancer Centre, where those funds go towards and how they support families who need it, and how they support the programming necessary for us to get through our treatments."
Joal McMahon
Meet Joal
"I was diagnosed with colorectal cancer on August 2, 2022. Earlier that year, in April, we went to Punta Cana on a family vacation. During one of our dinners, I had to rush to the washroom. I had an explosive episode that concerned me enough to get checked on when I returned home.

I booked an appointment to see my doctor for a more thorough investigation, and he led me to a colonoscopy. That's where they found a three and a half centimeter polyp that was cancerous. So from that point on on, it was game on.

The official phone call came when I was at a Lasalle baseball tournament with my son. I was coaching first base, and expecting a phone call from the doctor. He called me in the third inning. So I really had to try to stay with the game, for the kids, even with this news swirling in my mind.
I've read Matthew McConaughey's book, Greenlights, and the message really resonated with me. There's green lights, yellow lights, and red lights in life. Green lights are cruise sailing, yellow lights are a little bit of a pause, red lights make you stop.
Learning lessons in each moment will get you back to green lights in no time. And I feel like the pause, the stop, the focus on myself and what's important, was much needed and definitely helped me right from day one."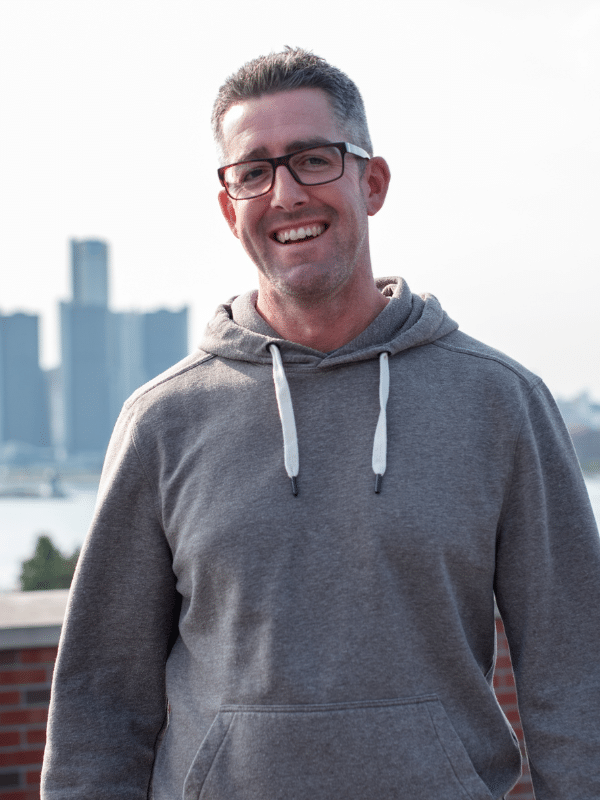 Team Up For Grow On Windsor
"The nurses, the caregivers, the social workers, the front desk workers. They all took it very seriously to know you as a person. And they knew me by name every day as I was coming in. They knew little stories about my son's hockey, my son's baseball. It made it very comfortable going in, even though it was pretty stressful not knowing how the treatment was going to turn out.
Whatever funds you can donate, whatever opportunities you have to be creative to help this cause, it's money well spent. Grow On Windsor has helped many families in our area."