What is a Crafty Giver?
Local entrepreneurs and organizations are creative at finding ways of doing "social good" in our community. These creative businesses have chosen to support the Windsor Cancer Centre Foundation by donating a portion of the proceeds from their participating products and services.
We are so appreciative of these local Crafty Givers, and we're pleased to showcase their participating products. Once you decide to make a purchase inquiry, you'll be directed to the Crafty Giver's website, where you'll find all the product, purchase, and order details. Once you navigate away from our site, you'll be in the great hands of these Crafty Givers. They will be happy to answer any questions you may have about their products.
We thank these generous Crafty Givers for their efforts to support cancer awareness, research, and treatment for patients in our community. See below for a list of Crafty Givers and the products and services available for purchase in support of the Windsor Cancer Centre Foundation.
Interested in Becoming a Crafty Giver?
Crafty Givers is the name we've given to the Cause Marketing efforts in the community. Becoming a Crafty Giver means you're interested in supporting the Windsor Cancer Centre Foundation while also promoting your brand and your commitment to doing social good. Here's some Crafty Givers ideas to get you started:
Reach out to Brooke Spitse, Manager of Fundraising. She'll sit down with you and put together a plan that promotes your fundraising efforts. Her contact info can be found at the bottom of our Contact page.
CRAFTY GIVERS IN OUR COMMUNITY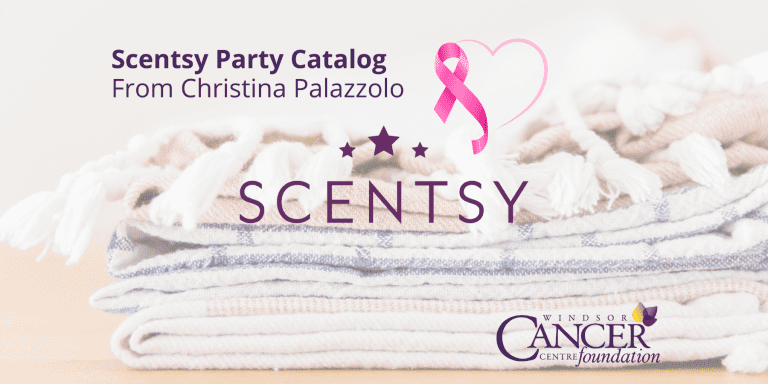 Purchase Scentsy From Christina Palazzolo Christina Palazzolo, a local Scentsy Consultant, is donating a portion of her sales to the Windsor Cancer Centre Foundation. Visit her website link by clicking Scentsy Party Catalog below, and you'll have the opportunity to browse her entire collection. In the search bar on her website, search BREAST CANCER and…